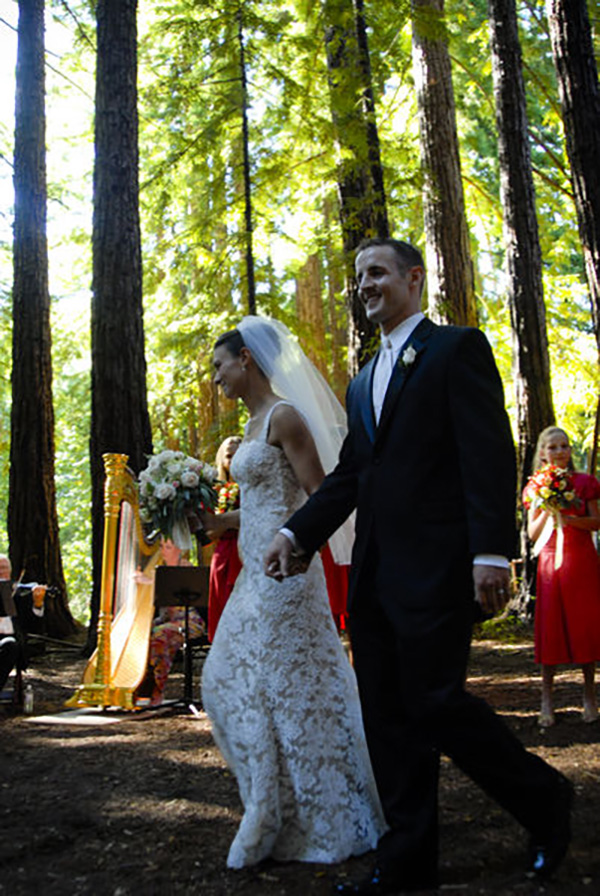 photo by Vasna Wilson

Perhaps you have always known what special music you wanted to hear while you walk down the aisle on your wedding day…or possibly "Here Comes the Bride" is the only song you can think of when it comes to wedding marches, and you're looking for something different. The good news is that it's YOUR wedding, and there are many songs that work well for wedding processionals and recessionals. You can find music that fits your own style and taste, and will help make your day exactly how you want it to be.
Here are the areas of music you should consider:
A harpist often provides prelude music for 20-30 minutes before the ceremony begins, as guests are being seated. This is often gentle classical music or beautiful popular melodies, to set the tone of elegance.
Typically, the bridesmaids enter to a beautiful, flowing piece of music. The same piece or a different selection may be played before this, while the mothers, clergy, and groomsmen enter. Some selections that work particularly well here are Pachelbel's "Canon in D", Bach's "Air on the G String", "Jesu, Joy of Man's Desiring", and "Arioso", Saint-Saens' "The Swan", selections from Vivaldi's " Four Seasons", and many others.
The bride's processional is usually stately, announcing her grand entrance. Often the music is more dramatic than the bridesmaids' procession, so that everyone knows that the change in music announces the arrival of the bride. Commonly used wedding "marches" include the best known Bridal Chorus of Wagner ("Here comes the Bride"), Mendelssohn's "Wedding March", Purcell's "Trumpet Voluntary", and a number of lesser known trumpet marches. Some brides prefer to use something different, and there are many options that sound great.
There may be special music during the ceremony itself, such as a solo during unity candle-lighting or some other time of reflection. This is typically a song that has special meaning for the couple.
The music for the couple's recessional is often faster; more of a fanfare. Mendelssohn's "Wedding March" is something of a standard (played faster and more brightly than it is played as a processional), as is Purcell's "Trumpet Voluntary". Many other selections work well. The idea is to give a sense of joyful celebration after the ceremony is complete and the couple is introduced for the first time.
There can be joyful, upbeat music selections played for a few more minutes as all the guests are filing out , to continue the theme of celebration.
Wedding receptions are a great place for a harpist. Background harp music can add just the right touch to a cocktail or champagne reception, even if a band or DJ is scheduled to appear later.
These are just guidelines, and it's important to choose the music you want to hear on your wedding day.
Feel free to listen to the music samples on the website. There are many more to choose from. I offer a complementary music consultation to play various pieces for you and help you choose the ones you want to fit in different places in your wedding ceremony. With enough advance notice, I can often find additional music for special requests that will help make your day truly memorable.